Are you looking for a great drink to cool off with? Try this fresh watermelon juice from the blender!  And despite the fact that nutrition gurus often say that watermelon has a high glycemic index, the fact is that it actually has a fairly low glycemic load, as long as you don't drink several quarts of it every day.  Plus, it's loaded with antioxidants, vitamins and minerals. One way to get a refreshing and thirst quenching drink is to make your own juice. It's the best way you can be sure there are no added sugars or chemicals.
INGREDIENTS:
1 small sweet watermelon about 6 pounds
1 small lime, juiced
INSTRUCTIONS:
Slice the watermelon in half.
Assuming your watermelon isn't seedless, slice the halves into smaller strips and use a small spoon to scoop out the seeds.
Discard the seeds, and scoop chunks of watermelon from the rind into the blender. If the watermelon is seedless, use a big spoon to scoop chunks of watermelon flesh into the blender.
Discard the rind.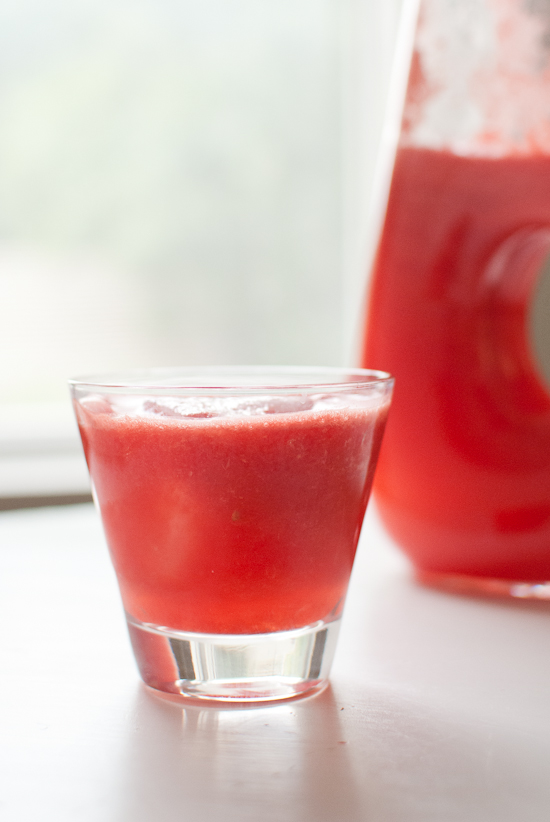 Blend the watermelon until it is totally pulverized. This shouldn't take more than a minute.
Squeeze the juice of one small lime into the blender and blend for a few seconds.
Pour the watermelon juice into a pitcher or pour directly into glasses, over ice. Enjoy!